There's quite a buzz about Hosted Desktop Services (HDS) these days and for many businesses it makes a lot of sense. Maybe it doesn't initially look so great for some IT support companies and departments but if embraced in the right way it can be a benefit for them as well.
HDS, sometimes referred to as cloud services or software as a service, is not really such a n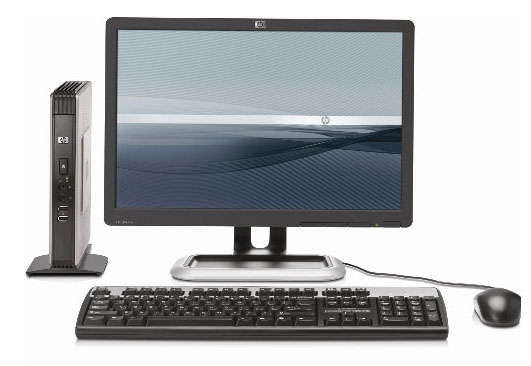 ew idea. Before people started using PC's as the mainstay device most computer systems had servers and intelligent workstations which we now call thin clients. Unix users will be very familiar with this concept.
Intelligent workstations like the thin clients of today had some memory and processor capacity but they mostly accessed software off of a server. Now that good broadband supplies are available the same type of system can be accessed over the internet. It has always been a good system!
In a nut shell a Hosted Desktop Service is "your PC" managed remotely and that can be accessed anytime, anywhere, from any device without all the headaches of maintaining it or the loss of performance that you often get with Windows based PC's.
Here are 10 reasons why it's a good idea for many businesses!
1 – A Uniform Experience Everywhere On Everything
Putting software on a central server means everyone can access the same software from anywhere. No more worries about which versions, which licenses, upgrading versions etc. Many HDS services will give access to software using apps that will work on nearly any device such as Citrix which works on Windows, Android, Apple OS, Linux, Unix, phones, tablets and other popular platforms that I may have missed out. It will work on different versions of different operating systems too!
2 – Backups & Security All Looked After For You
Backup and security are a necessary pain. It can be a worry when considering HDS, after all, how good is the suppliers backup and security? The answer is that it has to be good! Some companies will undoubtedly be storing sensitive and valuable data so HDS suppliers need to make sure everything is backed up in real time or close to it, often across different server locations in different countries.
Security has to be really good because if anyone hacked into the HDS systems it would be trouble for customer and supplier alike. That goes for up-time too which needs to be 99.99% of the time!
Because the software and data is stored on the HDS servers if a device is stolen or lost it's no problem especially with HDS sessions timing out.
Similarly antivirus and anti-malware services are all taken care of.
Backup, security and availability will be better than that which most companies have on their own systems.
3 – Speed
If you have used Windows based machines you will be familiar with the way that they can slow down over time. Maybe because there is too much software on a PC, because of a virus, perhaps the hard disc has faults, not enough memory or maybe the computer is just generally underpowered. This is not a problem with HDS where the servers are high quality, fast and maintained for you. The servers are doing all the work for you, all your device has to do is run the software that allows you to access the servers which doesn't tax a device or use much internet bandwidth.
It's like having a new PC everyday. People can work faster, be more productive and won't have the frustration associated with slow computers.
Just as an example I tested loading up Microsoft Word and a few other Microsoft products and the load up times were between half a second and 2 seconds.
4 – Proactive Support
Another headache with maintaining software and hardware is keeping everything up to date, often across many devices. Most of that won't apply with HDS as support staff are keeping everything up to date for their customers and monitoring systems for faults.
HDS users will still have queries and sometimes things may go wrong so it's important that support is available during working hours and maybe even 24/7support. This is a level of support available with HDS as many companies are using it and some at all hours.

5 – Improved Cash Flow
HDS is a scalable subscription service where different people can use different software at different times. This gives flexibility that can be controlled. The cost can be fixed to be the same each month or it can be capped to how much a customer is willing to spend each month allowing flexibility without loss of control. There are few unexpected expenses to accommodate. HDS is an easy service to build into a company's monthly and yearly budget.
6 – Mobility
Because it works anywhere in the world where there is an internet connection and on almost any device it can be used in London, Sydney, Delhi or perhaps even in space (one day). No special connections are needed. If a company moves office it doesn't matter, if someone has to work at home it doesn't matter. Use a PC, tablet, laptop or even a phone!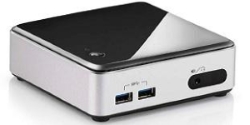 People can use their own hardware or simple thin clients* with any suitable screen.
*A thin client is a small box used to connect everything together such as a screen, a keyboard and a mouse. It can be simply configured to access an HDS service. Thin clients often have a built in card reader, sockets for USB devices, headphones etc. They rarely have any discs in them and don't need heavy duty processing power. Typically they are around 8 inches square and 2 inches deep. They use much less power than a PC too so cost less to run.
7 – Less Hardware And Software Worries
A company running its own system might have a list of IT concerns that go something like this:
Hardware to maintain and replace
Software to maintain, upgrade, fix, replace
Provisioning of new hardware and software
Security
Backups
Software version control
Licensing
Operating system support; possibly across different versions or even different OS types.
System availability
IT support, in house or contracted out
And more …..
At the time of writing Windows XP has recently been phased out of Microsoft's support regime but lots of companies still have it and have the headache of what to do next as they can't stay with XP forever. This is not an issue with hosted desktop services as it's all kept up to date on an ongoing basis.
Most of the hardware and software that had to be looked after before is no longer a concern with HDS.
With HDS there is often a core set of software that everyone gets such as Microsoft office, Chrome, Adobe Reader etc. Other optional paid for or free standard software can be chosen from. Other off the shelf or bespoke software can be requested and put onto the system for selection or as part of a customer's standard HDS setup.
The purchase and use of software by people or groups of people can be controlled by an approval system so that a company has control over what they are paying for.
The data for software used can be retained even if not used or paid for all of the time.
With HDS people can't just download software as they like. Miscellaneous software can come with viruses or malware or compromise the working environment. This is another built in method of controlling the integrity of company IT systems.
8 – More Time For Your Business
Depending on how much IT infrastructure a company has and how it uses it, a significant amount of time might be spent planning and implementing IT strategies. In turn a company may have to spend time communicating with their IT support department or provider. Some of this time will be concerned with day to day IT matters such as security, backup, housekeeping etc. If much of this is offloaded onto HDS either the IT support function can be reduced or diverted to other important company IT projects.
Using Hosted Desktop Services can result in more time spent on a company's core business and less on IT leading to savings and increased productivity.
9 – Integrate With Your Own Special Systems
A company might have some software and data that they want moved to the HDS servers and for most software this can be done. It's sometimes referred to as on-boarding. There may be one-time costs for this but once it's done that company won't have to worry about looking after it again.
A company might have some systems that just aren't suitable for HDS for example; a film company might have editing suites with specialized hardware and software that maybe 25% of the company use. Systems like these can be kept as they are and HDS still used in conjunction with those systems where required. Where needed data can be shared, synchronised and local data can be accessed directly from HDS!
10 – A Low Carbon Footprint
Last and not least you and your company will be doing your bit for the environment. The servers used with HDS are usually high quality enterprise servers that use less energy than others and a reduced carbon footprint all round.
If you and your company are using thin clients you will be using less energy at the office end which reduces your own carbon footprint and means you will make some savings too.
Each user takes 100k to 200k of internet bandwidth per session which could be less than what is used normally. Less internet capacity may be needed and may be reduced or utilised elsewhere.
A Special Microsoft Office 365 Note
Microsoft Office 365 is not a hosted desktop service, you still need a company hardware infrastructure. HDS gives you the benefits of Microsoft Office with far more flexibility and without all the maintenance.
[youtube https://www.youtube.com/watch?v=pFHJlM6sdDk]
Trying Out HDS
Did you find this of interest for your company? The best way to find out is to try it out.
Would you like to trial it for for 14 days from us or a demonstration? Would you like to just have a chat about it?
Fill out the form below and let's start a dialogue.
Leave us your number and we'll call you or call 0844 893 2151.
HDS on on www.iwantrouters.com/hosted.
Contact us however is best for you and we'll accommodate you. Don't worry we won't be chasing you like crazy or sending you a torrent of marketing material without your permission.